For a very long time I avoided this pattern. A tad too vintage for me. But then, my good friend Gemma told me she is making it and if I want she can share the PDF with me, so in the end I caved in and made it.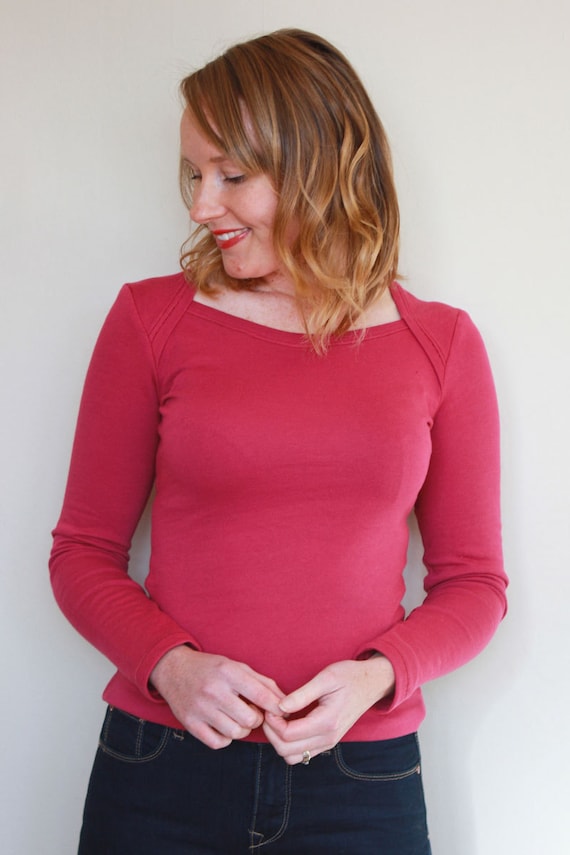 I made my muslin version out of textured jersey I bought without wanting to from MinervaCrafts. I don't remember how I ended up with this, and it was only one metre. I think I ordered it by mistake. When I got it I actually did not like the fabric, other than being red.
Based on the measurements on the pattern I cut a size 10 and graded to size 12 on the front piece in the bust area. I also shortened the long sleeve by 7 cm.
To make it I used both the sewing machine and the overlocker. The instructions are easy to follow. The order of construction is logical.
To finish the hems I used a triple stitch zig-zag and knit interfacing from SewkeysE to avoid waves.
Also because the neckline would not look OK to make it more stable and sit better I've added decorative buttons. This stopped it from creating pulls around the neck. It is possible that this was caused by me sizing down. But I've read on the internet that some other sewists had the same problem.
I found that the sleeves were still a bit too long so I've shortened the sleeves a further 2 cm.
Then once I was cutting my Virginia leggings – blogged about here – I had enough fabric left so I've cut another Bronte top at the same time. On my second make I've used the wrong side to make the neckline bindings. Also to keep the neckline flat I've added poppers to give it a edgier look , as I did not fancy hand sewing buttons.
For the third one, I've used fabric that was left over from the dress I made with Gemma during our March Sewing Day (I'll try to get the post for this soon). As I felt the colour was a bit strong, I layered over the top with stretch lace for the bodice pieces. And only used the lace for the sleeves.
I can officially say this is a TNT for me. Over the Easter I've made another two for my mum. I've used the same size as for me. Made both of them in a day, with loads of breaks too.
Out of the three tops I've made for myself, the black one is my favourite one. I have the feeling that I'll be making a lot more of them as well.
Don't really understand how this pattern has become one of my TNT patterns when I usually use the pattern once or twice and them move on. Also I was not really taken with it, and resisted it. I only made it because Gemma sent me the PDF.
Do you have patterns you were not too sure about which then became one of your favourite? Please share your stories, I'd love read them.